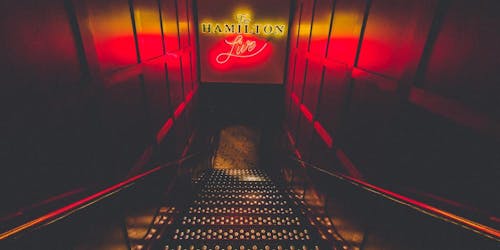 Return to The Hamilton Live to enjoy dinner and one of the greatest concert (films) of all time: Amy Winehouse - Amy!
AMY WINEHOUSE - AMY
This critically acclaimed film guides us through the life and legacy of Amy Winehouse, exploring her brilliant musical talent, personal journey and struggles, as well as her heartbreaking and untimely passing.
RESERVING YOUR TABLE
Admission is free. There is a $100 food & beverage minimum per table.
Click "Tickets" and then "Buy From Map" to select your table.
A $100 deposit is collected at the time of reservation. This will be applied in full towards your table's food & beverage bill.
Tables seat up to 4 or 6. Your party may not exceed the size of your selected table.
MENU
The Hamilton's full restaurant menu will be available - click here to view in advance.
Welcome back to The Hamilton Live! To ensure the safety of our guests and staff, please take note of the following COVID-19 procedures.
We have severely reduced our capacity to 17 tables to ensure social distancing.
We have suggested timed entry and table-by-table exit procedures to maintain social distancing while entering and exiting the venue.
All team members maintain saftey procedures including mask & glove use, temperature checks, pre-screening questions, regular & thorough handwashing, and abiding by 6-foot distancing wherever possible.
Provide single-use menus and digital payment options
Thoroughly sanitize tables, furniture, and public contact surfaces before & after the showing
WE REQUIRE THAT ALL GUESTS FOLLOW THE SAFETY PROCEDURES BELOW
Wear cloth or surgical facemasks that securely cover the nose and mouth while entering or exiting the venue, using the restroom, or conversing with staff
Refrain from leaving your table or visiting others during the show
Do not attend if you or a member of your party are experiencing symptoms of COVID-19
.

Venue Information:
The Hamilton Live
600 14th St NW
Washington, DC, 20005
https://www.eventbrite.com/v/the-hamilton-2104