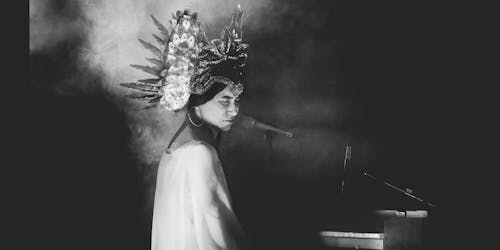 Chart-topping, genre-transcending SIMRIT debut at The Hamilton Live!
This show was originally scheduled for April 28, 2020. Tickets to the original date will be honored at this performance.
SIMRIT - TICKETS
UPGRADE ANY TICKET with the VIP EXPERIENCE - $60
Early entry to the venue
Photo with SIMRIT
Exclusive Q&A session
SIMRIT VIP Lanyard
TICKETS
Gold Seated GA Tickets - $75
Seated GA Tickets - $45
Bar Area GA Tickets - $35
For any wheelchair or ADA needs, please contact the Box Office in advance of the performance at (202)-769-0122.
All tickets are general admission (GA). Seats cannot be reserved in advance. We recommend that guests arrive early to secure their favorite seats within their section.
To make your night even better, we've partnered with an app called Rooam that lets you open and pay your bar tab from your phone! Click here to set up your Rooam account before the show.
Neo-Psychedelic World Beat & Ethereal Wave band SIMRIT is creating waves with packed theaters and concert halls, chart-topping albums, and raving fans world-wide, powering a palpable musical movement. Transcending genres with their eclectic and eccentric blend of instruments and lineages, the SIMRIT experience is based around lead singer-songwriter, Simrit Kaur, born in Athens, Greece and adopted by Greek Americans into South Carolina. Roots Reggae, The Grateful Dead, Mazzy Star, Led Zeppelin, among many others, have proven deeply influential as Simrit has unlocked her own unique sound. Decades of study and experimentation with Kundalini yoga deepened Simrit's relationship with the quantum technology of Naad (nod) yoga (the ancient science of articulating specific sounds using the power of the navel and the precision of the tip of the tongue hitting different meridian points on the roof of the mouth, impacting the brain's neural pathways and chemicals, eliciting altered states of reality); the effects of which influence her music. Filling out the SIMRIT sound and experience is Salif Bamakora on the 21-string West African kora. Shannon Hayden on electric cello (which she runs through a pedal board with wild effects) and guitar, Jared May on bass & Moog synthesizer and Devon Ashley on drums and other percussion. SIMRIT's music is known for its hypnotic, deep-pocket groove, haunting beauty, edge, and mind-bending atmosphere. It has been called exotic funk while also being likened to the epic, cinematic feels of David Lynch and Quentin Tarantino films.
Venue Information:
The Hamilton Live
600 14th St NW
Washington, DC, 20005
https://www.eventbrite.com/v/the-hamilton-2104