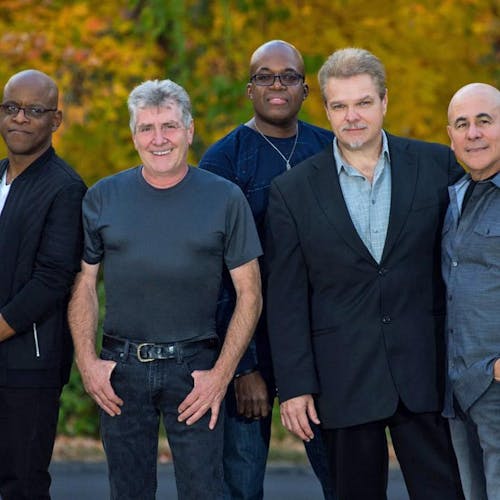 New York jazz icons Spyro Gyra return to The Hamilton Live
SPYRO GYRA TICKETS
Pre-Sale begins 8:00pm November 20
Tickets on sale 10:00am November 22
Sign up for our newsletter to receive pre-sale promo codes
Gold Seated GA Tickets - $54.75
Seated GA Tickets - $39.75
Bar Area GA Tickets - $29.75
For any wheelchair or ADA needs, please contact the Box Office in advance of the performance at (202)-769-0122.
All tickets are general admission (GA). Seats cannot be reserved in advance. We recommend that guests arrive early to secure their favorite seats within their section.
To make your night even better, we've partnered with an app called Rooam that lets you open and pay your bar tab from your phone! Click here to set up your Rooam account before the show.
Spyro Gyra is an unlikely story of a group with humble beginnings in Buffalo, NY who has continued to reach an international audience over forty years, resulting in sales of over 10 million albums and having played over five thousand shows on five continents. They have accomplished this due to a forward looking approach combined with the work ethic of an underdog, always challenging themselves to do something new while never resting on past success. It has proven to be a recipe for longevity for this jazz group while music has gone in and out of styles in ever shorter cycles.
Spyro Gyra are contemporary jazz icons who observed their fortieth year as a band in 2014 with shows that showcased their breakthrough Morning Dance album. After that year of looking back, they decided to spend 2015 concentrating on their more recent material, playing many songs from their post 2000 releases. The audience reaction was so positive to their recent material that bandleader Jay Beckenstein decided that their albums from that period deserved a little more focus. So, in order to spotlight this innovative and productive period, Spyro Gyra is releasing "The Best Of The Heads Up Years" this spring.
They released their last, their 30th, album of new material The Rhinebeck Sessions in 2013, which Jazztimes called "inspired". Travis Rogers of the Jazz Journalists Association picked it for Jazz Album Of The Year. Something Else Reviews called it "Their finest album since their early 80s heyday" and made it a TopTwenty pick for the year. George Harris of the Jazz Weekly enthused, "I gotta tell ya, these guys still sound GREAT."
"My hope is that our music has the same effect on the audience that it does on me," says group leader Jay Beckenstein. "I've always felt that music, and particularly instrumental music, has this non-literal quality that lets people travel to a place where there are no words. Whether it's touching their emotions or connecting them to something that reminds them of something much bigger than themselves, there's this beauty in music that's not connected to sentences. It's very transportive. I would hope that when people hear our music or come to see us, they're able to share that with us."
Venue Information:
The Hamilton Live
600 14th St NW
Washington, DC, 20005
https://www.eventbrite.com/v/the-hamilton-2104