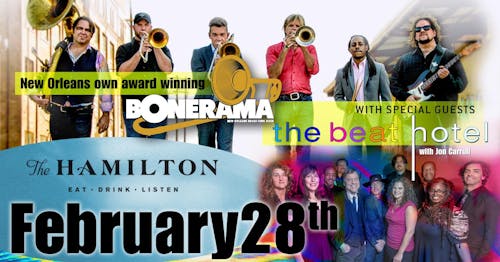 The Hamilton Live Presents:
Bonerama
The Beat Hotel (with Jon Carroll)
$20.00 - $25.00
Sales Ended
One of NOLA's finest trombone bands returns to The Hamilton Live just in time for Mardi Gras, joined by DC's own The Beat Hotel!
BONERAMA TICKETS ON SALE NOW
Sign up for our newsletter to receive pre-sale promo codes
Seated GA Tickets - $25
Standing GA Tickets - $20
For any wheelchair or ADA needs, please contact the Box Office in advance of the performance at (202)-769-0122.
Please note that the front row of tables and chairs will be cleared for this show to create a general admission Pit. Be advised that there may be some seated areas where vision of the stage is obstructed.
To make your night even better, we've partnered with an app called Rooam that lets you open and pay your bar tab from your phone! Click here to set up your Rooam account before the show.
Bonerama has always been hailed as "unlike anything you've ever heard before"…
As their sound evolves and changes it's still the best way to describe this 18 year old powerhouse trombone touring band from New Orleans, LA. In addition to changing the way people think about the trombone, the sound of Bonerama has become an influence and contribution to the sound of New Orleans music today.
With newer acts such as Trombone Shorty and Big Sam's Funky Nation joining them on on the national music scene, it's New Orleans that has benefited with a newfound reputation as being a bonafide "Trombone Town". These bands carry the trombone like the trophy it truly is in New Orleans.
The band has performed and recorded with countless national artists such as R.E.M., OKGo, Tom Morello, Wayne Kramer (MC5), Jill Sobule and so many more, all while bringing their distinctive sounds from New Orleans to a national spotlight.
Festivals and events such as Monterey Jazz Fest to High Sierra Music Festival, Jam Cruise, Bear Creek Festival and of course the New Orleans Jazz & Heritage Festival only outline the extensive festival work this band has under its' name. National television appearances on CNN and HBO (Comic Relief, Treme) have further exposed Bonerama to a wide range of unsuspecting new viewers.
Mark Mullins – Trombone / Lead Vocals
Craig Klein – Trombone / Lead Vocals
Greg Hicks – Trombone / Vocals
Bert Cotton – Guitar
Matt Perrine – Sousaphone / Electric Bass
Walter Lundy – Drums
THE BEAT HOTEL with JON CARROLL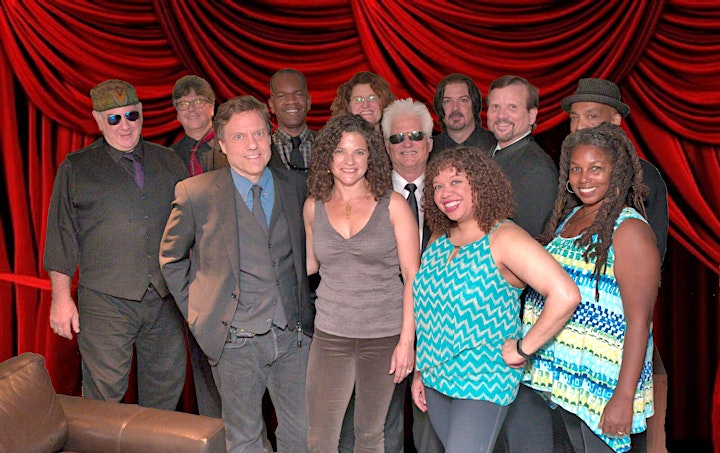 The Beat Hotel is a 10-piece band with a 3-piece horn section playing New Orleans Swamp Funk music. The band captures the Crescent City's unique musical hybrid of R&B, funk, soul and blues with a wonderful groove sensibility that is both creative and fresh. With the roots of its music deep in the Bayou (The Neville Brothers, Dr. John, The Meters, Alan Toussaint, Lee Dorsey, Jon Cleary, Henry Butler, etc…), The Beat Hotel has well-crafted melodies, a kicking horn section, rich vocal harmonies and deep grooves that consistently energize Music Festivals and Club's wherever they play.
DC Music Review writes: "Washington DC finally has a band that truly captures the wonderful sounds of New Orleans,
and its name is The Beat Hotel. They have taken the heritage of New Orleans carnivals, parades and back street bars and turned it all into their own identifiable, body-rocking brand of rough and tumble party funk."
Come on out and enjoy some real New Orleans swamp funk music!
Download Rooam before the show so that you can view & pay your tab from your phone!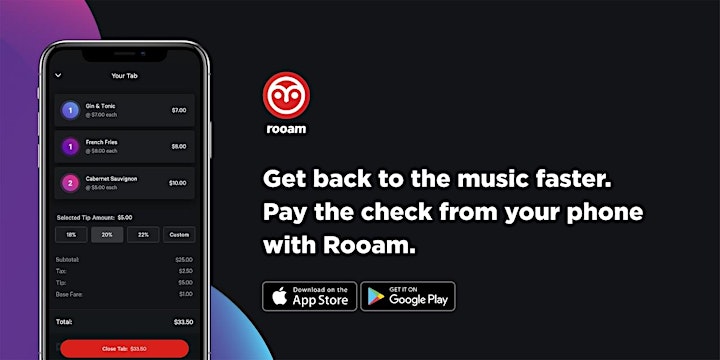 Venue Information:
The Hamilton Live
600 14th St NW
Washington, DC, 20005
https://www.eventbrite.com/v/the-hamilton-2104