Local legend Brian Gaffney at The Hamilton Live!
Brian Gaffney
Brian Gaffney singer/songwriter was born in Tralee, County Kerry.
During the late 70's, Brian was the resident Saturday night opener at Horan's Hotel in Tralee where he stayed for 5 years. Playing at Horan's gave Brian an opportunity to play with renowned Irish groups such as The Furey's, Moving Hearts and the Dubliners, just to name a few.
Brian continued to play all over Ireland until 1985 when he immigrated to America. Brian's first port of call was Boston, Mass. where he was immediately snatched up to fill in with the band "Dublin Sound" with Dessie Higgins and Sean Garvey. In 1986, Brian partnered up with Alan Loughnane and toured all over America with the group "Claddagh" for 3 1/2 years.
Brian then joined Fergus Kennedy, then Steve Morris in the Washington, DC and Northern Virginia areas in the band "Brendan's Voyage". They toured all over America as well and released 2 very successful albums "In Full Sail" and "Close to the Wind".
Brian became the proud father of Kelly Gaffney in 1992. In April of the following, he opened Nanny O'Brien's Irish Pub in Washington, DC along with the Lyons family. Nanny O'Brien's quickly became known as a local landmark for Irish music. Many Irish musicians passing through Washington, DC played Nanny's stage. The Monday night trad sessiun that Brian started in 1993, still goes on in the backroom today and is the longest running sessiun in the Washington metro area.
Since Nanny O'Brien's opened in 1993, it gave Brian an opportunity to pursue his passion by playing traditional music. Brian teamed up with all star fiddle player, Brendan Mulvihill with whom he performed every Wednesday night at Nanny O'Brien's. Brian has also had the opportunity to play with such traditional greats as: Finbar Furey, Paddy Keenan, Billy McComiskey, James Kelly, Andy Irvine, Andy M. Stewart in concert and others during is weekly Monday night fireside seisun's. Past artists included: Eileen Ivers, Matt Molloy (Chieftains), Martin Hayes and many others.
The Lyons and Gaffney families sold Nanny O'Brien's in January 2007. Brian is now focused on his music career, primarily as a solo artist, but he still features on tours with Finbar Furey, Brendan Mulvihill, Patsy Whelan, Brendan's Voyage and anyone else who may cross his path!
Tickets are $15 per person, sold by table ($30 for tables of 2, $60 for tables of 4, $90 for tables of 6). The entire table must be purchased at once. You do not need to fill every seat at your table, but may not exceed the capacity of your table. Tables seat 2, 4, and 6.
Please see venue map below to determine where your table will be.
There is no food or beverage minimum.
This show is being held in partnership with the D.C. Mayor's office as part of a pilot program to bring live music safely back to Washington D.C. As a result, table availability is extremely limited and strict COVID-19 guidelines are in place.
MENU
The Hamilton's full restaurant menu will be available - click here to view in advance.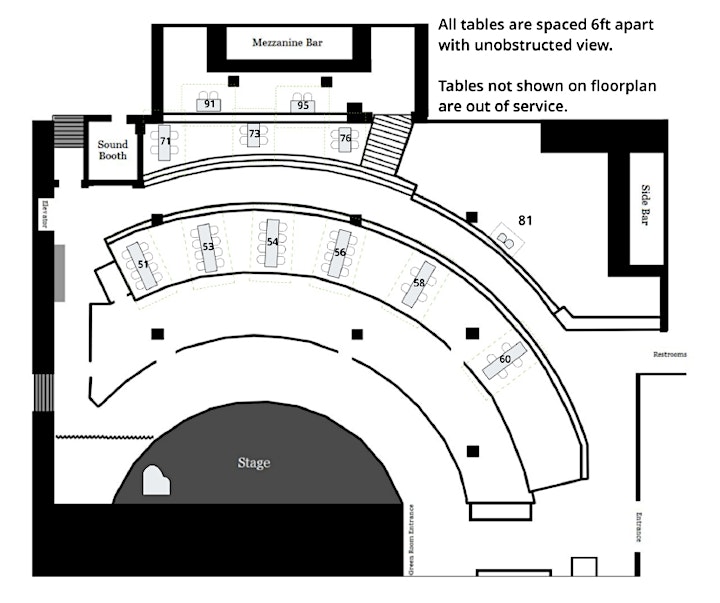 Welcome back to The Hamilton Live! To ensure the safety of our guests and staff, please take note of the following COVID-19 procedures.
We have severely reduced our capacity to 10 tables to ensure social distancing.
All team members maintain safety procedures including mask & glove use, temperature checks, pre-screening questions, regular & thorough handwashing, and abiding by 6-foot distancing wherever possible.
We provide single-use menus and digital payment option.
We thoroughly sanitize tables, furniture, and public contact surfaces before & after the showing.
WE REQUIRE THAT ALL GUESTS FOLLOW THE SAFETY PROCEDURES BELOW
Wear cloth or surgical facemasks that securely cover the nose and mouth while entering or exiting the venue, using the restroom, or conversing with staff
Refrain from leaving your table or visiting others during the show
Do not attend if you or a member of your party are experiencing symptoms of COVID-19
Venue Information:
The Hamilton Live
600 14th St NW

Washington, DC, 20005
https://www.eventbrite.com/v/the-hamilton-2104