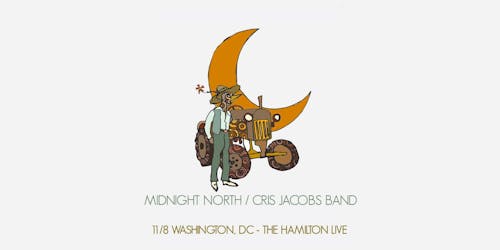 Cris Jacobs Band
Midnight North
$20.00 - $25.00
Sales Ended
All Good Presents: Cris Jacobs Band & Midnight North at The Hamilton Live
ALL GOOD PRESENTS: CRIS JACOBS BAND & MIDNIGHT NORTH
TICKETS ON SALE NOW
Seated GA Tickets - $25
Standing GA Tickets - $20
For any wheelchair or ADA needs, please contact the Box Office in advance of the performance at (202)-769-0122.
Please note that the front row of tables and chairs will be cleared for this show to create a general admission Pit. Be advised that there may be some seated areas where vision of the stage is obstructed.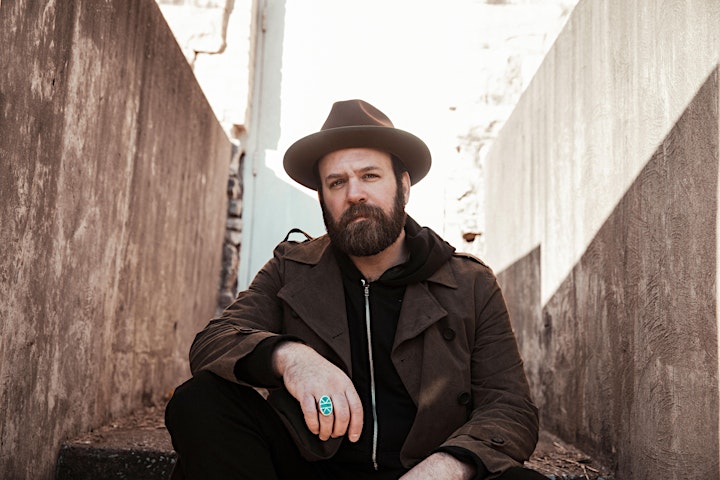 When Cris Jacobs began dreaming about a follow-up to his critically acclaimed 2016 album Dust to Gold, he realized early on he'd have to do things differently this time around. His life had changed drastically since writing those songs: he'd toured extensively and attracted a legion of new, devoted fans; he'd come off the road into a world, with its divisive rhetoric and troubling headlines, he no longer recognized; and, most importantly, he'd gotten married and had his first child. Things had changed, and Jacobs had, too.
Color Where You Are is the work of an artist at an exciting new stage in his life and career, ready to use his talents to share a little beauty with the loved ones and fans who have already given so much to him. The title nods to Jacobs' experience writing the album, which, as he puts it, he had to do "between tours, coming home, changing diapers, fixing things around the house.... You name it." He no longer had the luxury of waiting for inspiration to strike, so he colored where he was.
"It was a new discipline for me and a new level of focus that I think brought out the best work," he explains. "I feel like I grew up a little bit. There are people in my life who I truly care about and things in the world I feel deeply about. That really pushed me in a stronger direction and forced me to feel things on an honest level."
Opening track "Painted Roads," with its soulful groove and clever arrangement, is the perfect encapsulation of just how far Jacobs has come since releasing Dust to Gold. Jacobs is self- assured and confident in his soulful, infectious vocal, while his lyrical craftsmanship shows Jacobs to be a thoughtful songwriter who continuously strives to grow and evolve.
"It's about choosing to live in the present, and see the everyday details of the world, rather than postponing living or paying attention in hopes of some distant prize or destination," Jacobs says of "Painted Roads." "We get so caught up in 'success' and ambition, and are so goal-oriented, that we sometimes lose sight of the beauty in the everyday. 'Color where you are' is the notion of creating beauty now, no matter the circumstance."
"Painted Roads" was one of the first songs Jacobs and the band (who co-produced the album together) recorded for Color Where You Are, with his band mates taking Jacobs' original Tom Petty-inspired arrangement and giving it an off-kilter, syncopated groove. For the first time, Jacobs wrote the bulk of the album's songs in the studio, camping out at Richmond's Montrose Studios to flesh out "germs and ideas that had been floating around" with band members Todd Herrington (bass), Dusty Ray Simmons (drums/percussion) and Jonathan Sloane (guitar).
"I booked the studio time and put a gun to my head and that sometimes works," Jacobs says. "In this case it did. It feels like a specific time period and specific vibe and emotional space that came through in all of these songs. It was a really organic process."
While life as a family man changed Jacobs' perspective (and schedule), current events also had a profound impact on Jacobs' songwriting, with commentary on social and political issues finding its way into tracks like "Afterglow" and "Under the Big Top." Color Where You Are is a hopeful affair, though, with Jacobs employing thoughtful criticism and messages of empowerment instead of wallowing or ruminating.
"The political climate is causing a different sort of energy and angst in me that's never been there before," he explains. "It's not a political album by any means, but those forces out there certainly dictated a lot of the writing on this record."
On "Afterglow," Jacobs searches for optimism and healing in trying times. His emotional vocal is buoyed by a passionate, swelling performance from the band, making the track one of Color
Where You Are's most poignant moments. "It's about the hope that after the storm we are currently trying to survive in, we will see true light like never before," Jacobs says. "That the constant threats to our foundations will cause us to examine and strengthen them, and come out the other side with stronger hearts and clearer vision. 'There will come horses, there will come voices' -- that we will be forced to show our true hand like never before because of our dire need to defend it."
Elsewhere, on "Under the Big Top," Jacobs channels swampy, gritty Southern rock influences to shine a light on narrow-mindedness and lazy thinking. Crunchy riffs and a fat bass groove make the track, despite its heady message, one of the album's many songs you can't help but move to.
"'Under the Big Top' is commentary on society's evolution into gullible, easily distracted, lazy- mindedness," Jacobs says. "'Pretty lights junkie like a moth to candle,' always distracted by the brightest, loudest, biggest, rather than remembering how to seek for ourselves and find truth and love. We instead over-consume and are given every opportunity to do so. What we end up with is a circus of sorts, with tricksters and hucksters and loud mouths with no real value taking up all of our attention and ruling us, because we are too easily manipulated."
Grooves abound on Color Where You Are, as on standout track "Rooster Coop," which finds Jacobs and the band sniffing around the henhouse over greasy slide guitar, a deep, deep pocket and a truly funky bass line. "All I knew was that I wanted to write a song that merged country and funk," Jacobs says of "Rooster Coop." "We started out with the main groove of the tune and the first line that popped into my head was, 'There's something funky in the barnyard.' So naturally, I wrote a song about a scandalous love tryst amongst farm animals."
Spanning rock, folk, soul and funk and drawing from inspiration that runs the gamut from the henhouse to the White House, Color Where You Are is a kaleidoscopic portrait of Cris Jacobs as a songwriter, musician and bandleader. It's the work of a devoted father and an empathetic member of the human race. More than that, it's a reminder that there's beauty to be found everywhere, if you just take a moment to color where you are.
"What am I trying to do with my music?" Jacobs muses. "The simple answer is this: I'm trying to connect with people. To express real-life human emotions and make people feel things. To connect my love of music with my love of writing and conjure up all of the joy and emotions that those things bring to me. To hopefully have people walk away feeling lighter or happier or more inspired to go be a better person somehow after listening... I want to create a body of work that my family will be proud of one day, and to show that I had compassion to the human condition and wasn't just a self-indulgent show off."
In June of 2017, Midnight North released their third studio album: Under the Lights. On this full length record, Midnight North left it all on the court. Recorded by David Simon-Baker (Los Lobos, ALO, Jackie Greene, Mother Hips) at the Greene Room and Allegiant Studios, Under the Lights features their 11 best new tunes. Expect flares of country on tracks like "The Highway Song" and "Greene County", tinges of soul on the likes of "Back To California", but mostly good solid rock and roll. With strong melodies and stronger harmonies, for this band it comes down to one thing: the song.
Immediately after their last studio release, 2015's Scarlet Skies, Midnight North - fronted by lead songwriters Elliott Peck & Grahame Lesh with lush Hammond B3 organ, lead guitar, and harmony work from Alex Jordan and stomping bass lines from Connor O'Sullivan - began touring the country in earnest, visiting the East Coast and the Midwest for the first time in Summer 2015. The band wrote the majority of Under the Lightsin the following months, and the lyrical road themes - the initial excitement, the longing for home, and the inherent need to keep moving - shine through.
"Under the Lights is the perfect title for this collection of songs," said O'Sullivan. "These songs and lyrics are about being a band of musicians on the road away from home. Songs literally performed and tested under the lights at countless venues across the US."
Last year, while work in the studio continued, the band's stream of amazing live shows and festival appearances sped by as the band jammed with heavyweights like Bob Weir, Phil Lesh, Tom Hamilton, Mihali Savoulidis, and more. Hitting the road night after night and building their fan base has proved a lot of fun and every time they come back to a city the venues and crowds get bigger while the songs get tighter. "On the road you have an opportunity to dig into what the band is capable of and learn where your limits as a group are and aren't," said Jordan. "It was a wonderful opportunity to capture a sound on this album that is identifiable as our own."
In addition to all the touring, Midnight North is on year five of holding down Sunday nights at Terrapin Crossroads in San Rafael, CA. To celebrate the occasion, they released a free live album, Live at Terrapin Crossroads in 2016, where Relix Magazine took a shine to "the group's powerful three-part harmonies." Performing weekly for a hometown crowd allows a chance to continuously test new material. "I feel like I'll come to the band with this raw idea and watch it totally come to life," said Peck.
2017 continued the growth for Midnight North, as the exciting release of Under the Lights helped point the way for more and more fans to discover the band. "These songs tell our story, at least up to this point," said Lesh. "Our job is to sing you these stories as honestly as we can and transport you into our world for an hour or two."
Download Rooam before the show so that you can view & pay your tab from your phone!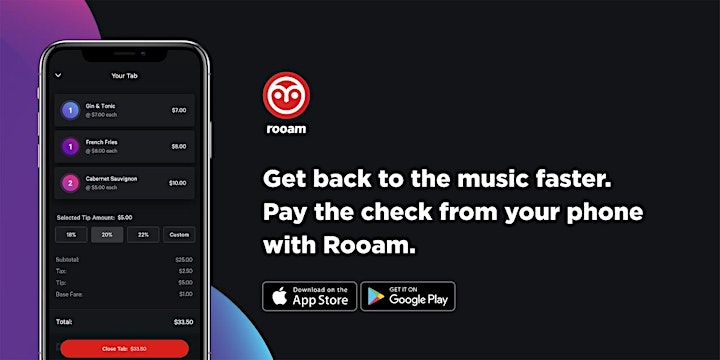 Venue Information:
The Hamilton Live
600 14th St NW
Washington, DC, 20005
https://www.eventbrite.com/v/the-hamilton-2104