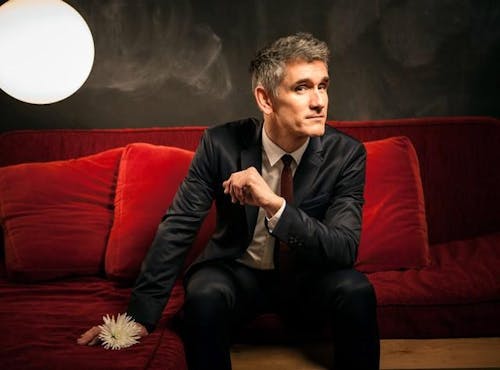 "Inspired marriage of visceral clout and intellectual savvy." —New York Times
CURTIS STIGERS - TICKETS
Pre-sale begins 8:00pm January 29
Tickets on sale 10:00am January 31
Sign up for our newsletter to receive pre-sale promo codes
Gold Seated GA Tickets - $39.75
Seated GA Tickets - $24.75
Bar Area GA Tickets - $19.75
For any wheelchair or ADA needs, please contact the Box Office in advance of the performance at (202)-769-0122.
All tickets are general admission (GA). Seats cannot be reserved in advance. We recommend that guests arrive early to secure their favorite seats within their section.
To make your night even better, we've partnered with an app called Rooam that lets you open and pay your bar tab from your phone! Click here to set up your Rooam account before the show.
For the award-winning singer, songwriter, and saxophonist, Curtis Stigers, the story keeps getting better. His string of hit singles, millions of albums sold, and a 28-year recording career aside, Stigers' commitment to artistic growth, and to bringing new tunes to the Great American Songbook, has become unparalleled in modern music. Along the way, this musician has redefined the constitution of contemporary jazz singing.
Stigers' success as a songwriter has included co-writing with the likes of legends like Carole King and Barry Mann, and his songwriting talent also led to an Emmy nomination for co-writing and singing the theme song to the wildly successful TV series Sons Of Anarchy.
It is his rich singing voice, however—singular, balletic, and at turns both mournful and playful—that has landed him on records with the likes of Al Green, Shawn Colvin and Jackson Browne, in studios with venerated producers like Larry Klein, Danny Kortchmar, and Glen Ballard, and on stages and concert bills with a plethora of legends, including pop and rock greats Eric Clapton, Elton John, Bonnie Raitt, Prince, Rod Stewart and The Allman Brothers Band, and jazz giants Nancy Wilson, Al Jarreau, Gerry Mulligan, Randy and Michael Brecker, Chuck Mangione, Toots Thielmans, Wynton and Branford Marsalis, Kurt Elling, Diana Krall, John Scofield, Larry Goldings and many more.
After being mentored in his early years by legendary jazz pianist Gene Harris, and by the revered jazz singer Mark Murphy, Stigers' unique talent was recognized by music business impresario Clive Davis, who signed Stigers to a record deal after hearing him in a New York restaurant. A debut album sold over 1.5 million copies worldwide on the strength of self-penned hit singles like "I Wonder Why," "You're All That Matters to Me," and "Never Saw a Miracle." A year later, Stigers contributed a cover version of Nick Lowe's "(What's So Funny 'Bout) Peace Love and Understanding" to The Bodyguard soundtrack, which has sold over 40 million copies worldwide. Multiple appearances on The Tonight Show, The Late Show With David Letterman, The Today Show, and countless international TV shows, put Stigers directly in the spotlight of popular culture. Stigers also made cameo appearances in the movie comedies Ted and Ted 2, written and directed by his friend, Seth MacFarlane.
Born in Hollywood, raised in Idaho and transplanted to Manhattan, he now resides, between concert appearances, back in Boise, where he's proud to help raise hundreds of thousands of dollars each year for the Interfaith Sanctuary Homeless Shelter.
Venue Information:
The Hamilton Live
600 14th St NW
Washington, DC, 20005
https://www.eventbrite.com/v/the-hamilton-2104