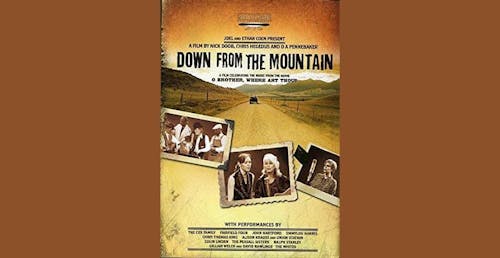 Join us in The Hamilton Live for dinner and a movie! Playing tonight - Down From The Mountain!
DOWN FROM THE MOUNTAIN
Down From The Mountain explores the making of the iconic soundtrack of Joel & Ethan Coen's O Brother, Where Art Thou? , conceived during an evening of musical performances by country and traditional artists John Hartford, Ralph Stanley, Gillian Welch, Emmylou Harris, Alison Krauss, and Chris Sharp.
RESERVING YOUR TABLE
Admission is $5 per seat, sold by the table ($20 or $30). You must purchase the whole table, and may bring as many guests as will fit at your table.
Click "Tickets" and then "Buy From Map" to select your table.
Tables seat up to 4 or 6. Your party may not exceed the size of your selected table, but you need not fill the table.
MENU
The Hamilton's full restaurant menu will be available - click here to view in advance. There are no food or beverage minimums. Outside food and beverages are prohibited.
Welcome back to The Hamilton Live! To ensure the safety of our guests and staff, please take note of the following COVID-19 procedures.
We have severely reduced our capacity to 17 tables to ensure social distancing.
We have suggested timed entry and table-by-table exit procedures to maintain social distancing while entering and exiting the venue.
All team members maintain saftey procedures including mask & glove use, temperature checks, pre-screening questions, regular & thorough handwashing, and abiding by 6-foot distancing wherever possible.
Provide single-use menus and digital payment options
Thoroughly sanitize tables, furniture, and public contact surfaces before & after the showing
WE REQUIRE THAT ALL GUESTS FOLLOW THE SAFETY PROCEDURES BELOW
Wear cloth or surgical facemasks that securely cover the nose and mouth while entering or exiting the venue, using the restroom, or conversing with staff
Refrain from leaving your table or visiting others during the show
Do not attend if you or a member of your party are experiencing symptoms of COVID-19
.

Venue Information:
The Hamilton Live
600 14th St NW

Washington, DC, 20005
https://www.eventbrite.com/v/the-hamilton-2104