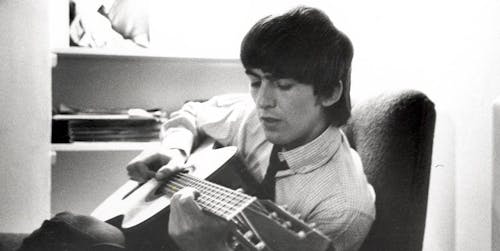 Here Comes The Sun: The Songs Of George Harrison
Newmyer Flyer Presents Here Comes The Sun: The Songs of George Harrison
NEWMYER FLYER PRESENTS DREAM DISCS: GEORGE HARRISON - TICKETS ON ALE NOW
Sign up for our newsletter to receive pre-sale promo codes
Gold Seated GA Tickets - $44.75
Seated GA Tickets - $29.75
Bar Area GA Tickets - $24.75
For any wheelchair or ADA needs, please contact the Box Office in advance of the performance at (202)-769-0122.
All tickets are general admission (GA). Seats cannot be reserved in advance. We recommend that guests arrive early to secure their favorite seats within their section.
To make your night even better, we've partnered with an app called Rooam that lets you open and pay your bar tab from your phone! Click here to set up your Rooam account before the show
HERE COMES THE SUN: THE SONGS OF GEORGE HARRISON
The songs written by George Harrison, the "quiet Beatle", take the spotlight as 17 great DC performers perform Harrisons' Beatles and solo years hits, classics and beloved deep cuts.
George was the youngest Beatle but he never lacked for confidence and managed to put his stamp on their music even before his emerging skills as a first rate songwriter had fully bloomed. His songs for The Beatles including Something, Taxman, If I Needed Someone & Here Comes The Sun showed he could write with the best. His first solo album All Things Must Pass is considered by many the best of the Beatles solo efforts, and included the hits, Isnt It a Pity, What Is Life, Beware Of Darkness & Wah Wah.
Harrison displayed a keen musical, intellectual and spiritual curiosity from a young age, and he was the catalyst fueling The Beatles forays into Indian music & country and western. His essential contributions as a guitarist to the Fabs iconic music are best summed up by Elvis Costello who said. "you can sing every guitar solo George Harrison played"
Newmyer Flyer is the 2nd production company led by BandHouse Gigs co-founder Ron Newmyer. Past shows have included The Last Waltz, the Dream Discs album tribute series, Laurel Canyon: Golden Songs of Los Angeles 1966-73, A Southern Soul Tribute, Love Songs; The Beatles & The Best of Janis Joplin & Jimi Hendrix among others.
Venue Information:
The Hamilton Live
600 14th St NW

Washington, DC, 20005
https://www.eventbrite.com/v/the-hamilton-2104