The Hamilton Live Presents:
Honey Island Swamp Band
Erica Falls
$15.00 - $20.00
Postponed
Erica Falls and Honey Island Swamp Band at The Hamilton Live
HONEY ISLAND SWAMP BAND AND ERICA FALLS
Pre-sale begins 8:00pm February 12
Tickets on sale 10:00am February 14
Sign up for our newsletter to receive pre-sale promo codes
Seated GA Tickets - $20
Standing GA Tickets - $1`5
For any wheelchair or ADA needs, please contact the Box Office in advance of the performance at (202)-769-0122.
Please note that the front row of tables and chairs will be cleared for this show to create a general admission Pit. Be advised that there may be some seated areas where vision of the stage is obstructed.
To make your night even better, we've partnered with an app called Rooam that lets you open and pay your bar tab from your phone! Click here to set up your Rooam account before the show.
Think The Band's Big Pink album and add a splash of hot sauce with Willin' by Little Feat – this group of New Orleans vagabonds nails it.
New Orleans, LA or San Francisco, CA– From the pristine waters of the Honey Island Swamp, to the vibrant streets of New Orleans, to the hazy corner of Haight-Asbury in San Francisco, this band has endured devastation, relocation, and revitalization. A group whose sound has been tagged "Bayou Americana," the Honey Island Swamp Band takes the hammer to the nail with the help of producer Luther Dickinson, and presents Demolition Day to the world April 29 on Ruf Records.
This album marks the 10-year anniversary of the Honey Island Swamp Band, which formed in San Francisco, CA via New Orleans after Hurricane Katrina displaced the founding members. With little hope of returning to their beloved city, the band channeled the blues and emotions of their circumstances to develop a soulful style and sound that critics have compared to legendary Blues-Roots-Rock Artists such as The Allman Brothers, Little Feat and The Band.
Recording at the Parlor Studio in New Orleans, Honey Island Swamp Band teams up with producer/musician Luther Dickinson of the North Mississippi Allstars to capture a rhythm and a feel born straight from the heart of Americana. The album features a host of New Orleans finest musicians, including guest appearances by keyboardist Ivan Neville and Tab Benoit on pedal steel.
"Their all encompassing sound of blues, roots, country, and soul has been described as "Bayou Americana." – No Depression
"We've always wanted to record to two-inch tape, to get that old analog sound," says bandleader Aaron Wilkinson, "and this was our first opportunity to make it happen. Luther was the perfect producer to help us nail that old-school, authentic sound. He was great at keeping us focused on the spirit of each performance, not getting bogged down in details and perfectionism. That's what we were looking for and what we needed."
After all, polish isn't necessary when you're working with songs this strong. Across its eleven cuts, Demolition Day tips a hat to most of the great American genres, while adding the Honey Island Swamp Band's inimitable thumbprint. There's the spring-heeled slide-blues of "Ain't No Fun", the upbeat funk of "Head High Water Blues", the cat-house piano and country-fried guitars of "How Do You Feel". But then, on the emotional flipside, there's also the reflective wah-guitar lilt of "Say It Isn't True", the mournful funeral-jazz slow-burn of "No Easy Way" and the heart-in-mouth acoustic confessional of "Katie".
"We're diverse and complex people," explains Chris Mule, the band's guitarist, "and our audiences are as well. So we try to let our music reflect that."
Soul singer and songwriter Erica Falls credits her unique vintage sound to her childhood growing up in New Orleans' 9th Ward, where her parents introduced her to Roberta Flack, Aretha Franklin, Stevie Wonder, Nina Simone, Sarah Vaughn, and Whitney Houston. Whether on stage or in the studio, she channels a sassy, soulful tone that recalls an earlier era. But Erica cautions her fans: "Vintage soul is not about bringing the listener back to a time of authentic music, it's about reminding them that it never went anywhere," she says.
Download Rooam before the show so that you can view & pay your tab from your phone!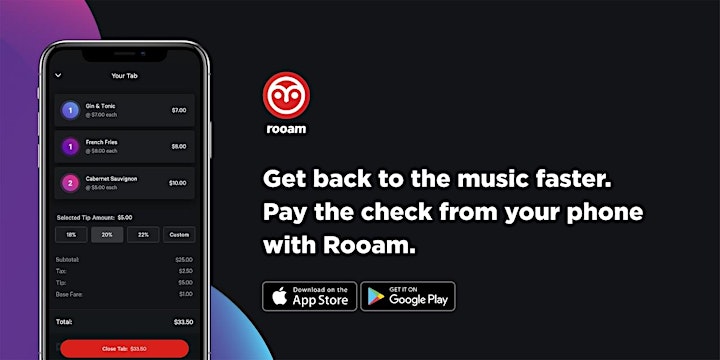 Venue Information:
The Hamilton Live
600 14th St NW
Washington, DC, 20005
https://www.eventbrite.com/v/the-hamilton-2104