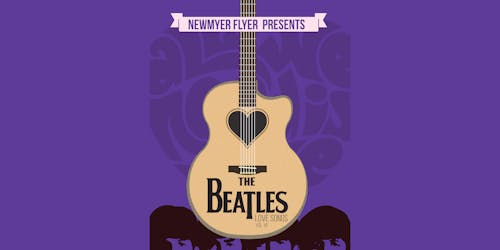 LOVE SONGS: THE BEATLES vol 7
Kipyn Martin, Magical Mystery Girls, Brian Simms, Bumper Jacksons Duo, Brandon Combs, The Lofgren Brothers
Newmyer Flyer's troupe of talented DMV area musicians return to celebrate The Beatles' greatest love songs. Couple's package available!
NEWMYER FLYER PRESENTS: LOVE SONGS: THE BEATLES VOL. 7
Sign up for our newsletter to receive pre-sale promo codes
VIP Couple's Package (Gold Seated GA) - $150 for 2 tickets. Includes a 1/2 bottle champagne & a special dessert to share.
Seated GA Tickets - $35
Bar Area GA Tickets - $25
For any wheelchair or ADA needs, please contact the Box Office in advance of the performance at (202)-769-0122.
All tickets are general admission (GA). Seats cannot be reserved in advance. We recommend that guests arrive early to secure their favorite seats within their section.
To make your night even better, we've partnered with an app called Rooam that lets you open and pay your bar tab from your phone! Click here to set up your Rooam account before the show.
LOVE SONGS BEATLES VOL. 7
What's better than love and The Beatles?Put them together and you have a dream date for Valentines week.Now in its 7th year, Love Songs; The Beatles features a wide array of D.C.'s most exciting vocal talents as they take on fab four's epic catalogue of songs celebrating love in its many splendors and guises. With new performers and songs keeping it fresh each year, this show will remind you why The Beatles colossal impact on popular music endures a half a century later.
Performances By; Kipyn Martin, Bumper Jacksons Duo, Brian Simms, Magical Mystery Girls, Brandon Combs, Todd Wright, Tom Lofgren, Cal Everett, The Lofgren Brothers (Tom, Mike, & Mark) John Trupp & featuring; Dave Egelhofer, Chuck Sullivan, Ronnie Smith, Brian Goddard, & Ronnie Newmyer
Newmyer Flyer is the 2nd production company led by BandHouse Gigs co-founder Ron Newmyer. Past shows have included The Last Waltz, the Dream Discs album tribute series, Laurel Canyon: Golden Songs of Los Angeles 1966-73, The Songs of Burt Bacharach & Hal David, A Southern Soul Tribute, The Best of Janis Joplin & Jimi Hendrix, John Lennon & Paul McCartney Birthday Tributes, & Ravers! 80's UK Soul among others.
Venue Information:
The Hamilton Live
600 14th St NW
Washington, DC, 20005
https://www.eventbrite.com/v/the-hamilton-2104