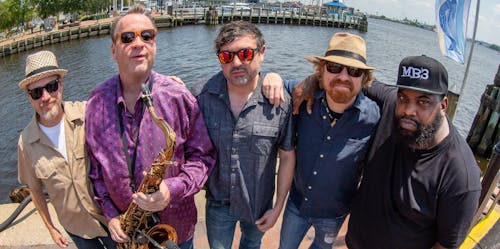 The Hamilton Live Presents
The New Orleans Suspects
Sol Roots
New Orleans Suspects at The Hamilton Live
NEW ORLEANS SUSPECTS TICKETS ON SALE NOW
Sign up for our newsletter to receive pre-sale promo codes
Seated GA Tickets - $30
Standing GA Tickets - $20
For any wheelchair or ADA needs, please contact the Box Office in advance of the performance at (202)-769-0122.
Please note that the front row of tables and chairs will be cleared for this show to create a general admission Pit. Be advised that there may be some seated areas where vision of the stage is obstructed.
To make your night even better, we've partnered with an app called Rooam that lets you open and pay your bar tab from your phone! Click here to set up your Rooam account before the show.
When New Orleans Suspects arose from the primordial musical soup that is New Orleans, they were a fill-in band and an occasional jam band at their neighborhood Maple Leaf Bar. The group brought together some of the best, most highly respected players in New Orleans including Jake Eckert, Jeff Watkins, CR Gruver "Mean" Willie Green on drums, and Reggie Scanlan. When they started touring late in 2011, naysayers in the Crescent City agreed it would not last; the Suspects would be another short-lived super group that would quickly fall apart under the weight of egos and money. New Orleans Suspects exceeded expectations and some five years later they have delivered their fourth album release, Kaleidoscoped.
The Sol Roots band performs a mix of raw funk, deep blues, energetic rock, greasy soul, and hypnotic rhythms. Sol is a multi-instrumentalist and vocalist who has toured with many roots, funk, and blues legends around the world as a part of Music Maker Revue.
The Sol Roots band has performed at many premier festivals and venues across the east coast US, and has shared the stage with acts such as Jon Cleary, Soulive, Dumpstaphunk, The Wood Brothers, Sonny Landreth, Robert Randolph, Eric Lindell, Roosevelt Collier, Cory Henry & The Funk Apostles, Booker T Jones, Walter "Wolfman" Washington, Shemekia Copeland, Jackie Greene and more.
Paying homage to the greats, and with a love of Universal Music as the guiding light, Sol steps out on a path with a powerful group unique and talented band of musicians.
Sol Roots is an official Home Grown Music Network artist and a "Next Generation" Music Maker Relief Foundation artist. Sol Roots was awarded "Best Blues Act/Group" 2019 by The Wammies / The MusicianShip
"A soulful blend of rock and blues with a natural stage presence" - Jambase.
Download Rooam before the show so that you can view & pay your tab from your phone!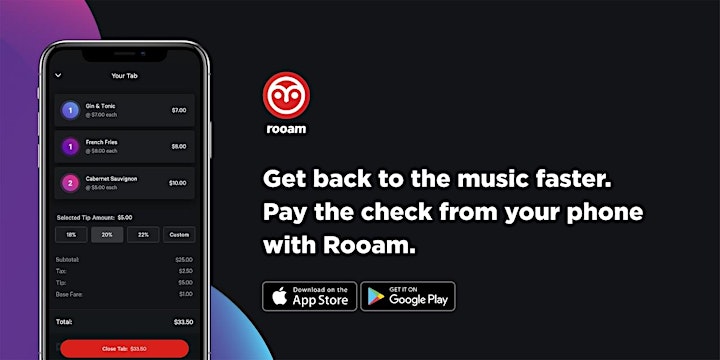 Venue Information:
The Hamilton Live
600 14th St NW
Washington, DC, 20005
https://www.eventbrite.com/v/the-hamilton-2104