The Hamilton Live Presents
The Ron Holloway Band
Gordon Sterling and The People
Join the Ron Holloway Band for the offical afterparty at The Hamilton Live after the Tedeschi Trucks Band rock The Warner Theatre!
TEDESCHI TRUCKS BAND AFTERPARTY FEATURING THE RON HOLLLOWAY BAND TICKETS ON SALE NOW
Sign up for our newsletter to receive pre-sale promo codes
General Admission - $10
For any wheelchair or ADA needs, please contact the Box Office in advance of the performance at (202)-769-0122.
PLEASE NOTE: Unlike usual shows at The Hamilton Live, all tickets for this performance are General Admission, first come, first served. This includes seated and standing areas. Guests are allowed to save one seat for one other ticketholder.
To make your night even better, we've partnered with an app called Rooam that lets you open and pay your bar tab from your phone! Click here to set up your Rooam account before the show.
Ron Holloway is one of the busiest tenor saxophonists on today's music scene in any genre! Recently, Ron toured extensively with The Warren Haynes Band, in support of two critically acclaimed releases on the Stax Records label. Holloway is a frequent guest of Gov't Mule, Tedeschi Trucks Band, The Allman Brothers Band, and many others. Over the years, he has been a member of an eclectic roster of groups, including; the Susan Tedeschi Band, the Dizzy Gillespie Quintet, Gil Scott-Heron and Root Boy Slim.
The Ron Holloway Band is a 7-piece saxy, funk machine out of Washington DC. Combining sax driven jams along with soaring female vocals, intensely emotive guitar, and hard hitting grooves to deliver a full on funk, rocking show. Pulling from influences such as Sly & the Family Stone, Parliament Funkadelic, and other funk masters, RHB provides a blend of rock, funk, soul, and r&b grooves to hit you with a high-energy sound and presence. A relatively young band, this group has quickly made waves on the festival scene, having the pleasure of being joined on stage by greats such as Warren Haynes, Jack Pearson, Derek Trucks, Susan Tedeschi, as well as members of Gov't Mule and Tedeschi Trucks Band.
In the Biographical Encyclopedia of Jazz, renowned jazz critic Ira Gitler describes Ron Holloway as "a bear-down-hard-bopper who can blow authentic R&B, and croon a ballad with warm, blue feeling." While true, this only begins to touch upon the versatility of the tenor saxophonist! The quest for complete expression has been a hallmark of Ron Holloway's music from the beginning.
Download Rooam before the show so that you can view & pay your tab from your phone!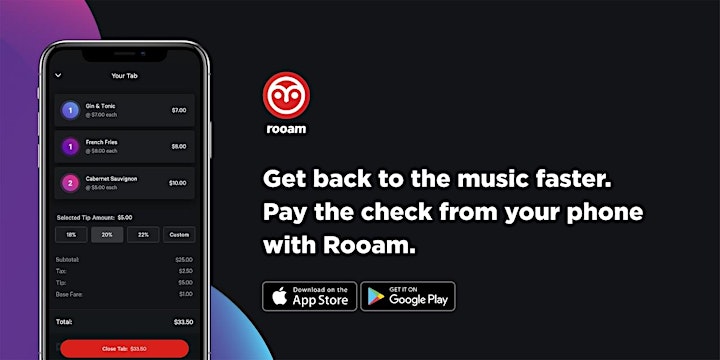 Venue Information:
The Hamilton Live
600 14th St NW
Washington, DC, 20005
https://www.eventbrite.com/v/the-hamilton-2104