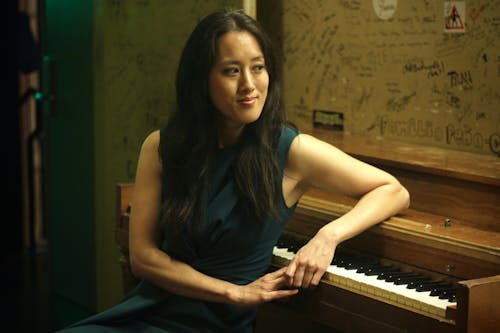 The Hamilton Live Presents
Vienna Teng
Jeremiah Lloyd Harmon
Don't miss an intimate, unforgettable performance with Vienna Teng at The Hamilton Live!
VIENNA TENG TICKETS
Pre-sale begins 8:00pm October 23
Tickets on sale 10:00am October 25
Sign up for our newsletter to receive pre-sale promo codes
VIP EXPERIENCE UPGRADE - $65: includes early entry to the venue, meet & greet with Vienna Teng, and a SPECIAL GIFT. Must be purchased in addition to your concert ticket.
Gold Seated GA Tickets - $49.75
Seated GA Tickets - $38.75
Bar Area GA Tickets - $28.75
For any wheelchair or ADA needs, please contact the Box Office in advance of the performance at (202)-769-0122.
All tickets are general admission (GA). Seats cannot be reserved in advance. We recommend that guests arrive early to secure their favorite seats within their section.
"So come out. You have been waiting long enough."
This clarion call opens Aims, Vienna Teng's fifth studio album. It's as much a reminder for Vienna herself as an invitation to her listeners – a call to awaken the full potential within all of us.
Indeed, the new album finds Vienna in full adventurous mode. Recorded in Nashville with producer Cason Cooley (Katie Herzig, Matthew Perryman Jones), Aims is exuberant and buoyant in its enthusiasm, yet crafted with the same creative precision that has defined her previous work. The acoustic piano, once the centerpiece of her recordings, plays an occasional supportive role here; in its place are intricate layers of electronica, percussion, strings, and electric guitars. "Cason and I built a playlist of reference songs when we started working," Vienna remembers. "We put Beck and Florence & the Machine and Kanye West on there. James Blake, Foster the People, Vampire Weekend. We started by stealing from the music we were obsessed with."
The result is glorious, intelligent pop music with a signature all its own. Against a backdrop of stomping percussion and a gospel-inspired refrain, "In the 99" rejects the black-and-white, us-versus-them conflict view of the Occupy movement, instead exploring inequality through the eyes of a compassionate investment banker. In the gorgeous and disturbing "Hymn of Acxiom," Vienna sings from the perspective of Big Data, densely layering and manipulating her vocals into an electronically-textured choir to spin an eerily relevant cautionary tale. There are tender moments as well, as in the folk-tinged album closer "Goodnight New York," a love letter to a previous home, relationship, and perhaps vocation. "I'll say goodnight but it's never goodbye," she promises. If Aims is any indication, there's even finer music to come from this artist in the years ahead.
Venue Information:
The Hamilton Live
600 14th St NW
Washington, DC, 20005
https://www.eventbrite.com/v/the-hamilton-2104