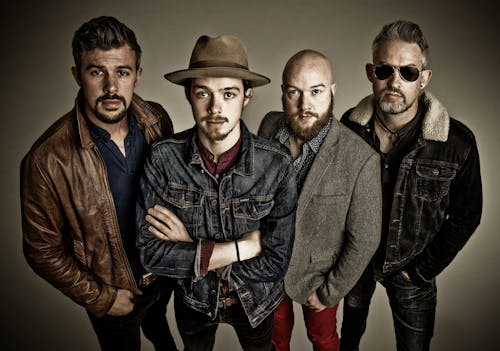 Doors at 6:30pm | Showtime at 7:30pm
WE BANJO 3 TICKETS:
Sign up for our newsletter to receive pre-sale promo codes
Gold Seated Tickets - SOLD OUT
Seated GA Tickets - $25.25
Bar Area GA Tickets - $16.75
For any wheelchair or ADA needs, please contact the Box Office in advance of the performance at (202)-769-0122.
All tickets are general admission (GA). Seats cannot be reserved in advance. We recommend that guests arrive early to secure their favorite seats within their section.
For all the innovation and invention that goes into modern music these days, it's the inspiration derived from one's roots that proves the most enduring. So credit Galway, Ireland's We Banjo 3 for finding common ground between old world tradition and authentic Americana. We Banjo 3's fifth album, Haven, released in 2018 has achieved International critical acclaim, and is adored by for their irrepressible and ever-growing legion of fans. Haven became the first Irish album to reach Billboard Bluegrass No.1 and was awarded Best Folk Album in the RTE Folk Awards, the national broadcaster of Ireland.
Following on from their three previous acclaimed studio albums (String Theory, 2016, Gather the Good, 2014, and Roots of the Banjo Tree, 2012) the power of Haven relates to the band's sublime fusion of Irish and American roots music, while continuing to grant audiences an encounter with the most authentic of traditional sounds. In the nine years since their formation in the city of Galway on the rugged west coast of Ireland, We Banjo 3 have garnered multiple awards and accolades as diverse as Billboard World #1 and Bluegrass No #1 to RTE Folk Album of the Year, to Irish Times Album of the Year to Songlines Magazine Top of the World Award to featuring in the top 30 No-Depression folk Albums of 2018. The band has played for US and Irish Presidents, members of Congress and multiple ambassadors Europe-wide, as well as performing live to over 400,000 people annually across a multitude of Irish, Folk and Roots festivals in the US. Variously described as "The Irish Punch Brothers" and "transcending even the best superlatives", the band has now evolved into an astonishing song-writing unit, one whose latest album achieves a new gold standard for the combined powers of banjo, mandolin, fiddle and guitar.
We Banjo 3 have become a touring phenomenon, the pride of their home country, in demand across Europe and in Asia and the toast of every single roots festival of note across the US. Recently announced as musical ambassadors of their Home city, the boys and their loyal fans are now targeting the national airwaves, with their album 'Haven' a kind of once-in-a-decade calling card of melody and heart.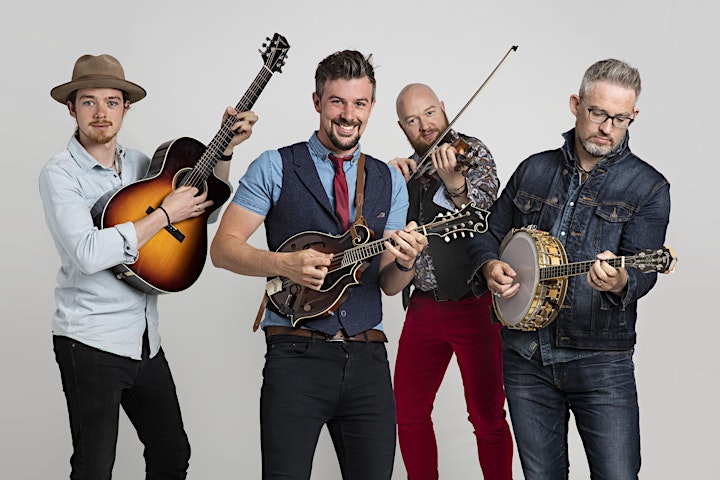 We Banjo 3 as a collective represent a myriad of creative riches. David Howley (lead vocals, guitar) is a front man of extraordinary presence and emotive range, oft compared to a young Bruce Springsteen, magnetically connecting with audiences. David has forged a unique guitar style, and counts guitar legends such as Tommy Emmanuel, Tim Edey, and J.P. Cormier amongst his fans. Fergal Scahill (fiddle, percussion, vocals) who enjoys an iconic standing in Ireland for both fiddle and bodhran, is a national champion many times over on a swathe of different instruments, and is also a tireless collaborator whose many musical projects have left a harmonious international footprint. Fergal has created a unique online repository of Irish music excellence with his popular Tune-a-Day which has garnered millions of online views worldwide. Martin Howley (tenor banjo, mandolin, vocals) is a seven-time all-Ireland banjo champion, and a performer of unique energies, who is credited with pioneering many new techniques on both banjo and mandolin, and holds the distinction of being the first Irish musician to perform at the Grand Ole Opry. Enda Scahill (tenor banjo, vocals) a widely renowned master of Irish banjo, has recorded with Ricky Skaggs, the Chieftains and many others; he is also an author acknowledged as one of the leading authorities on Irish banjo techniques. Enda has forged a path for Irish banjo that weaves through many sympathetic music cultures.

We Banjo 3's new record is a huge leap forward in the band's musical development. Completely self-penned, and written in the midst of a huge Atlantic winter storm in Ireland, Haven charts the course of the band's live experience, providing a safe, fun-fuelled space for people to relax and enjoy great music. Tracks such as Don't Let Me Down, Light in the Sky and Hold Onto Your Soul tell the band's story of the power of love and hope in the face of life's adversities. Haven is an anthem of love and connection. War of Love is a bittersweet love song about attending your ex's wedding and features Grammy nominated Sierra Hull on vocals. The instrumental tracks once again underscore the melodic genius and technical wizardry of these multi-talented musicians.

This is We Banjo 3 at full flow, in total control, at the height of their prowess, with a finely tuned message about love, acceptance, peace and kindness. An album of questing lyrical talent in pursuit of universal truth.

Venue Information:
The Hamilton Live
600 14th St NW
Washington, DC, 20005
https://www.eventbrite.com/v/the-hamilton-2104