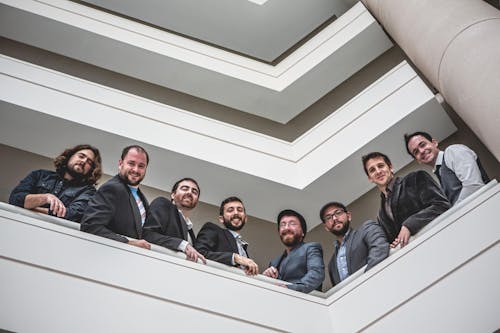 Yellow Dubmarine returns for their annual holiday takeover of The Hamilton Live!
YELLOW DUBMARINE TICKETS
Pre-Sale begins 8:00pm September 25
Tickets on sale 10:00am September 27
Sign up for our newsletter to receive pre-sale promo codes
Seated GA Tickets - $25.50
Standing GA Tickets - $18
For any wheelchair or ADA needs, please contact the Box Office in advance of the performance at (202)-769-0122.
Please note that the front row of tables and chairs will be cleared for this show to create a general admission Pit. Be advised that there may be some seated areas where vision of the stage is obstructed.
Yellow Dubmarine pays tribute to the greatest Beatles songs of all time, performing the music from the "1" album in a tightly rehearsed reggae style. The album features every number-one single released by The Beatles in the United Kingdom and United States from 1962 to 1970. Issued on the 30th anniversary of the band's break-up, "1" was the world's best-selling album of the 21st century, selling over 31 million copies. Devoted to paying tribute to The Beatles, Yellow Dub has toured hard, covering 44 states already. They've been touring in support of their first recorded effort, a dubbed out interpretation of the iconic album, Abbey Road, entitled, "Abbey Dub." Now, they are playing the #1 hits, and crowds of young and old are flocking to experience Yellow Dubmarine's imaginative vibes. Between the Beatles classics, slinky reggae grooves, and skanky horns, every show is sure to be a punky reggae party.
In the pursuit of a dream, ten years isn't so long to wait to see a vision reach its fulfillment. Especially because, while in that pursuit, one gains a slow mastery of what they are doing and how to do it. For The Scotch Bonnets, throughout their journey as the little band that could become the next great thing, everything has always been done with a little bit of rockin' style…

Punky reggae rockers from Baltimore with big tunes and an infectious live energy, The Scotch Bonnets have evolved into a tight, dynamic unit since their debut in December 2009. Like any ten-years-to-overnight-success story, 2019 was the defining year for this band. With the release of their second album Come On Over on Jump Up Records, the Bonnets embarked on two national tours opening for American ska founders The Toasters and on a third that brought them to the Victoria Ska & Reggae Festival in Victoria, British Columbia. Twice they slayed opening slots for Jamaican-rock'n'roll stalwarts The Slackers at their residencies in Brooklyn and Chicago, as well as sharing bills around the country with bands like The Pietasters, The Suicide Machines, Pilfers, Spring Heeled Jack, Westbound Train, and countless others. Additionally, several tracks from Come On Over have been in regular rotation throughout the year on numerous different ska radio shows, both online and on college radio.

After incubating at weekly reggae jams for months, singer-guitarist Kristin Forbes put together The Scotch Bonnets to be the vehicle for her song-writing. Dubbed Lady Hatchet by her peers, her tunes blends classic Jamaican groves with a soulful yet fresh approach to American singer-songwriting. In the beginning, there were two other women in the group, an intentional part of Hatchet's vision for a truly male and female lineup. "I never wanted to be the only girl in the band," said Hatchet. "It's a lot of pressure to be the only one of anything. But there is real power in equality, the balance of different energies and ideas."

Over the years, as members changed, Hatchet pressed on as the band leader and sole female in the group, fearlessly guiding her crew through the 2013 self-release of their first album Live Ya Life, a collaboration with legendary hardcore singer HR of Bad Brains that culminated in the 2014 EP Quest (released on Morphius Records), the sudden death of their saxophonist, backing vocalist, and dear friend Doc Night in 2015, and their 2017 Jump Up Records release, The District 7".

The Scotch Bonnets have twice been the US backing band for Roddy Radiation, founding lead guitarist of the 2 Tone pioneers, The Specials. In advance of their first tour together in 2015, the band released a video for their version of "Tropical London", a contribution to Smelvis Records' tribute to Rancid, Hooligans United. The video has since been viewed on YouTube over 18 thousand times. The highlight of their 2018 collaboration was the band's second appearance at the Supernova International Ska Festival, playing one Bonnets' set and a second backing Roddy.

The Scotch Bonnets' energetic live show makes them a regional favorite at local festivals and summer concert series. The band has also earned praise for their covers on numerous tribute compilations, most notably their take on "Are You Red…y" found on Recutting The Crap, a Crooked Beat Records' LP that reinterpreted The Clash's swan song, Cut The Crap. The Bonnets had the privilege of recording their track at DC's punk pantheon Inner Ear Studio with owner Don Zientera.

Since the band's inception, Lady Hatchet has leaned on the constant presence of bassist-turned-keyboardist Pablo Fiasco and vocalist-melodica player DJ Selah. Drummer Names Thompson joined in 2014 and, after Doc Night's passing, he and Pablo stepped up to become solid backing vocalists. However it was in 2019, with the additions of saxophonist Tiffany DeFoe and bassist Jade Tremba, that true equality was finally restored to the band.

At they enter a new century, The Scotch Bonnets are poised to go even further with their powerful new lineup and some brand new songs. They are slated to appear at the 2020 Supernova Ska Festival and are currently navigating a course for the new year that will bring the band and their music to more places, new and old, and to play with some of the best bands in the game. The journey continues to evolve for these reggae cats!

Venue Information:
The Hamilton Live
600 14th St NW
Washington, DC, 20005
https://www.eventbrite.com/v/the-hamilton-2104